It's been an amazing month. 478 auditions, over 9,000 miles, more than 800 arias. We are privileged to do this work, and I am regularly gobsmacked by the amount of talent, goodwill and personal courage exhibited by the artists who come into our audition rooms and then into our lives.
The singing is over, but the work is just beginning. We'll spend these next few weeks trying to match singers with repertoire and come up with a summer season. Wish us luck.
Today's #ASQoD* backs wayyyyy up to consider why we do this in the first place. Author Robertson Davies offers up one possibility:
"Music is the lyre, and opera is the underworld of passion and romance
that everyone desires but which daily life rarely offers."
Thanks for coming along for the ride; I hope that the balance of your own audition season goes well – that you come out of it stronger and wiser than before. Because we need that.
I'll close the circle the same way we began, just because. This time, with an original artwork sketch by my colleague Lee Anne.
The small man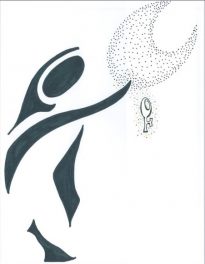 Builds cages for everyone
He
Knows.
While the sage,
Who has to duck his head
When the moon is low,
Keeps dropping keys all night long
For the
Beautiful
Rowdy
Prisoners.
In bocca al lupo!
*The Audition Season Quote of the Day is a month-long series brought to you by Wolf Trap Opera.