Marschner's Der Vampyr marked Sarah Caldwell's return to the Wolf Trap Company, and expectations were certainly high. It was scheduled for a highly-anticipated, ambitious, most unusual 12:00 midnight performance in mid-July. The production files are full of various reports on the phase of the moon and its rising/setting in summer 1980. There were to be mystery and ambiance to spare, and the press releases spoke of "chilling scenic displays."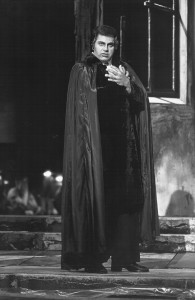 Unfortunately, by late June it became clear that the performance would need to be postponed. The reasons are a bit unclear – most of the press indicated that the special effects critical to the production needed more time to be assembled, but some reports spoke obliquely of "union issues" with the midnight curtain time. Whatever the reason, the show was moved from the Filene Center at Wolf Trap Farm Park to the WTOTP's second home, the chapel auditorium at the Madeira school. Because of the smaller venue capacity, two performances were held at Madeira – one at the civilized hour of 8pm on a Thursday, and one at the planned-for midnight hour on Saturday.
I happened upon the agenda for a production meeting scheduled just a few weeks before opening night. Whenever I think we have problems, I shall return to this agenda, for it ran something like this:
SETS
Where are the sets?
When do they arrive?
PROPS
Are there props?
Has anyone seen a prop list?
COSTUMES
Has anyone made costumes?
Where are the costumes?
LIGHTS
Who's in charge of the lights?
Nevertheless, the show did go on, and the press was generally favorable. Yet I can't say I'm sorry I wasn't around during the late summer of 1980 :)