"There's a magical time at the beginning of every career where just the right amount of accumulated knowledge coincides with an irrepressible enthusiasm for the work itself. If you're lucky, at that point you get the chance to see how good you are at what you believe you were born to do. I am fortunate every summer to preside over many people who sit at this exciting intersection in their lives. And it happens because the Wolf Trap Foundation is committed to providing a unique experience for talented musicians who are gearing up for a career in the opera business."
And thus began my little presentation to the Wolf Trap Foundation Board of Directors this week. Some of what I planned ended up hemoragging onto the cutting room floor as the meeting ran long, but I was able to wedge in many of my main points.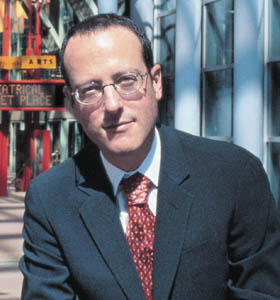 Two guests spoke on behalf of the Company, and it was supremely gratifying to hear about the WTOC from their perspectives. I realize that when one agrees to provide an endorsement or recommendation, a positive spin is part of the pact. But both former Filene Young Artist Kenneth Kellogg and former General Director Peter Russell managed to hit it out of the park.
Peter spoke to the Company's reputation across the opera field in the U.S. – a good thing for our stakeholders to hear, as most people (and some opera lovers) in the DC area aren't familiar at all with the WTOC. It's great to have Peter back in the area as he embarks on the next chapter of his career as General Director of Vocal Arts DC.
And Kenneth spoke from the heart about what it feels like to come to Wolf Trap and finally be allowed (and trusted) to take responsibility and step to the foreground. In describing the sensation, he said that it felt like someone had finally freed him up and removed the leash.  (I think he just gave us our new tag line.)
The presentation ended with this little montage of photos and audio from our last three seasons. Enjoy!
See you next week, when our first summer staff members arrive! (Gulp)