I spent the week in Houston, in a bit of unplanned time on the piano bench, coaching some young singers. (The jury's still out as to whether that was a good idea, but it's behind me now, and I survived.) In these few minutes before I desperately try to catch up on all of my Wolf Trap work, I leave you with this brief summary of how Trappers seem to be everywhere.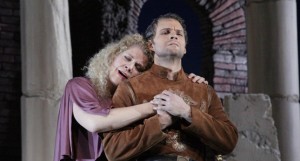 The Rape of Lucretia dress rehearsal on Tuesday featured Michelle DeYoung ('95) in the title role, with Ryan McKinny ('06, '08) as Collatinus. (photo at left)
At Traviata on Wednesday evening, WTOC alums were onstage and in the house. Chad Shelton ('99) stepped in for an ailing Alfredo, wedging the Traviata in between his performances of Lucia in Austin. His Lucia colleague and WTOC alum Weston Hurt ('05, '06)  traveled from Austin for Chad's performance. HGO Studio singers and former Trappers Catherine Martin ('10, '11) and Nick Masters ('09, '10) were onstage as Flora and Grenvil, and former Studio Artist Brittany Wheeler (WTOS '08) sang Annina.
I ended up in this mess as a favor to our dear friend Eric Melear, once a pivotal member of our Wolf Trap team (and before that, a WTOC Fellowship recipient), now Associate Music Director of Houston Grand Opera.  Hearing him play and speak at their competition finals (Concert of Arias) was a pleasure in so many ways. I was taken care of this week by none other than the inimitable Amra Catovic (HGO Studio Administrator and former WTOC intern), and my partner in crime on the coaching staff was Grant Loehnig (Co-Manager of the Wolf Trap Opera Studio).
My colleagues on hand for the Concert of Arias and the next day's house auditions included Forth Worth General Director Darren Keith Woods ('84 & '85) and LA Opera Artistic Administrator Joshua Winograde ('00, '01). The finalists in the competition (9 singers chosen from among the 600 who auditioned) included Sarah Larsen (WTOS '08 and our Sarelda in last April's Inspector premiere) and a soprano who is about to become a member of our clan as a 2012 Filene Young Artist (look for our Season Announcement on Sunday, February 12!).
It's a small world, an even smaller business that we're in, and people in whose careers Wolf Trap participated are everywhere. To everyone out there who helps the WTOC make a difference in their careers, from our donors and patrons to staff members and artist mentors: Be proud, people. It's good work, this.