This double bill was the first WTC production away from the Filene Center. A single performance was held in the chapel/auditorium on the campus of The Madeira School. The Wolf Trap Company was closely linked to Madeira in those early years – young artists were housed and fed there, and rehearsals were held in their gymnasium. (This persisted all the way into the mid-80's, for I remember playing rehearsals there.)
This production was the premiere of Signor Deluso, the latest opera from the then-28-year-old composer Thomas Pasatieri. That same year, he enjoyed premieres of The Seagull at Houston and The Penitentes at Aspen.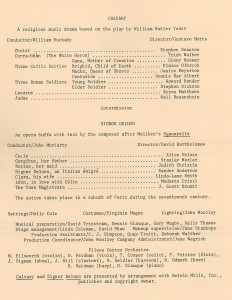 Sadly, I've found no photos of this performance. But it marked the first production that featured the Wolf Trap Company's young artists in all featured roles, rather than the 1970's Filene Center model of bringing in guest artists.  It wasn't until our chamber venue, The Barns, was built in 1981 that the Company had a way to capitalize on this model. But the seeds were sown at Madeira in 1974, in what must've been an exciting performance for this fledgling company and young composer.