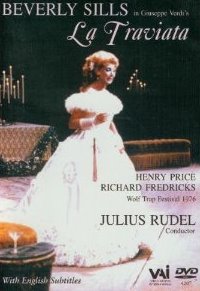 Beverly Sills returned for her third consecutive season as a guest artist, this time as Violetta in Verdi's La traviata. Joining her were Henry Price as Alfredo and Richard Fredericks as Germont.
Supporting roles were sung by members of the young artist roster.
Julius Rudel conducted and Tito Capobianco directed, in a production from the San Diego Opera. This Traviata enjoyed a TV broadcast, and I'm told that its ambitious physical production caused much gnashing of teeth during tech week. The first changeover lasted 5 hours, and with considerable rehearsal, was trimmed down to only 3 hours. End result? The scenic treatment seen in this DVD was ultimately pared down from the original.
August 12 & 14, 1976
Filene Center
Beverly Sills, Violetta
Fredda Rakusin, Flora Bervoix
Evelyn Petros, Annina
Henry Price, Alfredo
Richard Fredericks, Giorgio Germont
Neil Rosenshein, Gastone
Robert Orth, Baron Douphol
Keith Kibler, Marchese
John Cheek, Doctor Grenvil
Roger Lucas, Giuseppe
Christopher Deane, Gardener