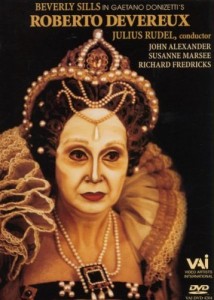 Beverly Sills returned in July 1975 for a memorable performance of one of her Donizetti Queen roles: Elizabeth in Roberto Devereux. Her castmates included John Alexander, John Lankston, and Susanne Marsee. And, as was the WTC custom at the Filene Center in 1975, young artists sang supporting and chorus roles. Julius Rudel conducted, and Tito Capobianco directed.
As was the case with the Daughter of the Regiment the previous summer, Roberto Devereux was happily recorded for posterity and is still available for purchase.
Our files are severely lacking for this production. A few production photos will have to do for now.