Other than a showcase performance at the Meadow Center, the Company's 1983 activities were exclusive to its relatively new home at The Barns. In addition to full productions of Donizetti's Tutor's Dilemma and Cavalli's La calisto, patrons enjoyed a cabaret-style performance of Kurt Weill – After Dark, which wove materials from Mahagonny and Street Scene.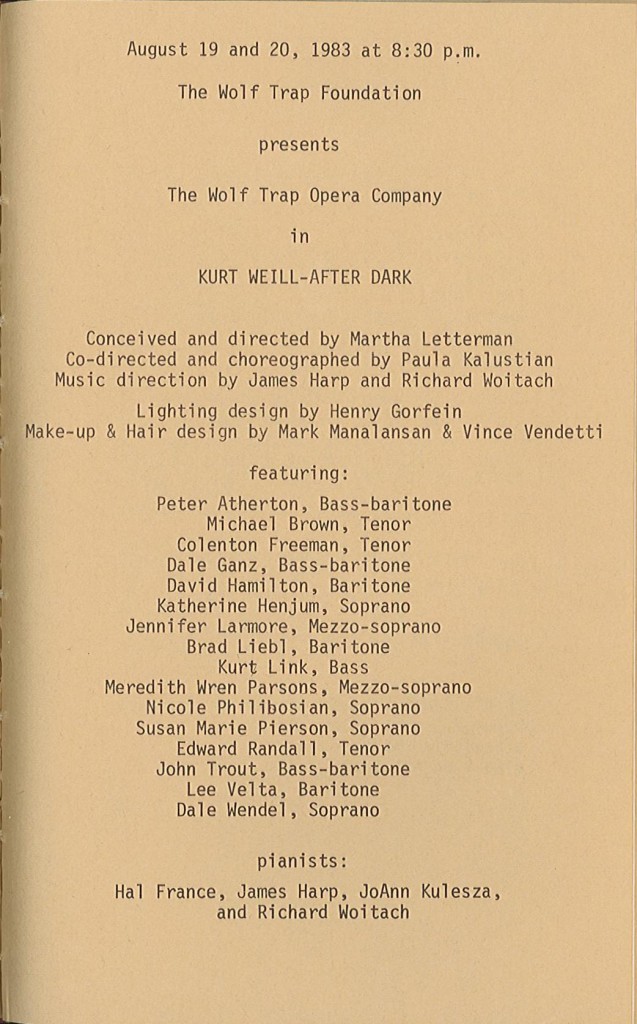 Young Artists of the 1983 Wolf Trap Opera Company
Peter Atherton
Michael Brown
Colenton Freeman
Ganz Dale
David Hamilton
Katherine Henjum
Robert Keefe
Jennifer Larmore
Brad Liebl
Kurt Link
Meredith Wren Parsons
Nicole Philibosian
Susan Marie Pierson
Edward Randall
Timothy Sarris
John Trout
Lee Velta
Dale Wendel
For the first time in the Company's history, there existed a small group of what seemed to have been called "apprentices" in the 1983 season.  Although this program doesn't seem to have lasted beyond the 1983/84 seasons, it was a foreshadowing of what was to become our current Studio Artist division (begun in 2007, and now an integral part of the WTOC.) A description of the apprentice program in '83 stated that "these young conservatory singers will cover roles in the productions and sing in the choruses. They will receive full coaching in their roles and have the opportunity to observe all rehearsals and classes of the opera program." As far as we have been able to determine from our records, there were 7 apprentices in 1983:
Lisa Corbett
Paul Henry
James Katchko
Edrie Means
Ellyn Peabody
Marci Plait
Carl Tanner
**************************************
The 1983 season was dedicated to Donald Gramm, an artist closely affiliated with the success and growth of opera at Wolf Trap.  He died suddenly in June of 1983.