This post was born at the intersection of two things at which I do not excel.
First, I am terrible at keeping up with trade magazines. They pile up on my desk and mock me, and every few months I give in and take them home and dig through them.
Second, I too infrequently boast of our contribution to the careers of high-profile singers who started out in our company. We're proud of them, to be sure. But we are proud of the way hundreds of artists who cut their teeth in our program take their Wolf Trap experience out into their professional lives, whether they have thriving regional careers, European careers, concert and teaching careers, or high-profile international profiles.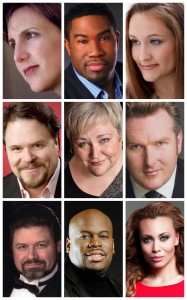 But as I was leafing through the April Opera News, the impact that our alumni have on the most visible part of our industry was newly undeniable. The issue featured the five 2013 Opera News Award Winners, two of whom – Eric Owens and Dawn Upshaw – are Trappers. The profiles of artists featured in that month's Met broadcasts included Wolf Trap alums Stephanie Blythe, Erin Morley, Richard Paul Fink, Mark Delavan and Simon O'Neill.  And closer to home, a few weeks ago I had the pleasure of seeing WNO's Showboat, which featured beautiful performances by Alyson Cambridge and Morris Robinson years after their Wolf Trap debuts. On it goes, on every major stage in this country and most abroad, in every month of every year.
The ON article on soprano Dawn Upshaw started thus: "There have been many memorable Susannas, Ilias and Paminas in the history of opera, but for those of us who heard the young Dawn Upshaw in these roles, it's impossible to think of them without conjuring up her inimitable sound…" And if you were at a Wolf Trap Opera performance of Magic Flute in 1985 or Marriage of Figaro in 1989, you would have been one of those lucky opera-goers who heard her in those roles.
Which of our new artists are the next Dawn Upshaw or Eric Owens? No one knows. And truly, it doesn't matter. There are dozens of ways to make an important, thriving career, and singing at the Met is just one of them. What does matter is that the work that Dawn, Eric, Stephanie, Erin, Richard Paul, Mark, Alyson, Morris and so many others did at Wolf Trap was as fine as it comes. Exciting, inspiring, entertaining, and full of promise. The lucky music lovers who catch one of our performances this summer will be in on the ground floor of careers that will shape our art form for decades.
Is that enough bragging for you? :)