What makes tenor Jonas Hacker tick? Pink Floyd, Alfredo Kraus, Radiohead and "Come scoglio" among other inspirations!
---
Which experience(s) most influenced your decision to become a professional singer? What's the earliest point in your life that you can identify in pointing you in this direction?
I think my dad was my greatest influence in becoming a singer. Dad has a gorgeous tenor voice and was going to be a choir teacher, before he realized he couldn't stand teaching and became a sign painter instead for 35 years (he's one of those annoying multi-talented people). He still sang at hundreds of weddings and funerals during my childhood, and often played records of opera singers in the house.  He is definitely my greatest inspiration in becoming a singer. On a side note, both of his brothers are fine tenors. I was cursed to be a tenor at birth! 
If you hadn't chosen this career, what would you have pursued instead?
I really wanted to be a Disney animator or a comic book artist. I was a fairly decent artist in High School, especially with cartoons, and I think that if I had stuck with it and taken some classes I could have done something with it eventually. 
What non-operatic music do you enjoy? Do you dabble in performing/playing/singing any other genres?
I love Classic Rock, Punk Rock, Alternative Rock and Electronic music.  I listen to things like Pink Floyd, Led Zeppelin, Jimi Hendrix, and the Grateful Dead to Radiohead, Shpongle, Entheogenic, and Animal Collective, as well bands like Rancid, Operation Ivy, Against Me!, and Sublime.  In High School, I had a brief period in a band called the Bedspreads with my friend Kyle in which I attempted to sing and play the piano.
What's your favorite part (or parts) of the preparation/rehearsal/performance process(es)?
My favorite day during the rehearsal process is the Sitzprobe. For me, there is nothing like singing with an orchestra, it is one of my favorite parts of the job and hearing them for the first time is a very special moment. Being able to focus completely on the music and the orchestra and not worry about staging for just one day is a real treat.
What's your dream role and why?
The title role of The Tales of Hoffmann. I love how bizarre the opera is, as well as it's episodic nature.  I love French opera and this piece has some of my favorite music. To me, Hoffmann is a far more lovable Werther, which appeals to me, and embodying his mood swings and mania would be a great acting challenge. His final music in the epilogue when he accepts the Muse as his true love is something I've always dreamed of singing onstage.
Do you have any artistic heroes? People whose careers or artistry you particularly look up to?
I'm a big fan of the careers of Alfredo Kraus and Nicolai Gedda.  Kraus arguably did not have the most beautiful or warm tenor instrument, but he sang with class, nobility, technical prowess, and honesty, and stayed true to his technique and what worked for him. I respect that he only tackled a couple dozen roles in his lifetime. It means he knew what he was good at, and stuck to it.  I am a fan of Gedda for many of the same reasons. He sang with the same class and attention to detail, and possessed a beautiful voice that he handled with near technical perfection. He tackled a far wider range of roles, but he did so because he knew his instrument so well and how it worked.
We're giving you a time machine: What period, or moment in musical history, would you travel to and why?
I would go back and see Pink Floyd's "The Wall" live in performance during the '80-81 tour. I have been obsessed with the album for years and heard that this tour was one of the band's greatest achievements. Plus, it's the freaking Wall!!!
What do you sing in the shower or in the car? (Or in a karaoke bar?)
In the shower, it's always heavy tenor repertoire ("Nessun dorma", Cavaradossi's arias, Turiddu's aria, etc.) or soprano arias (Violetta, Mimi, all the Mozart heroines ["Come scoglio" is my specialty]).
What's been your most memorable live music experience as an audience member?
I saw Roger Waters, the bassist and songwriter of Pink Floyd, live in concert at Summerfest in Milwaukee, Wisconsin with my High School best friend.  Pink Floyd is my favorite band, and seeing one of the people that inspired me to become a performer was literally breathtaking.  I will never forget the aging 55+ crowd rocking out to the old Floyd tunes around us.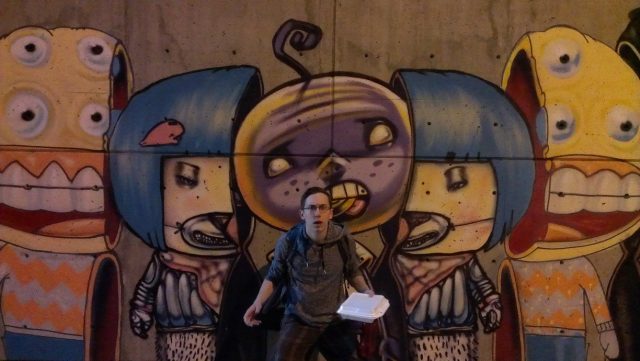 ---
You may hear Jonas this summer in recital with Steven Blier, as Roderick in The Fall of the House of Usher and Young Bastianello in Bastianello.