It was a whirlwind Seattle visit.
The morning pre-audition ritual was particularly extensive, as we were still on east coast time and up before the sun.  A 7am hike up Queen Anne hill netted us one of the most memorable sunrises I've seen. (Captured at right with my phone, as of course, I didn't think to take my camera…)  And since we were in coffee mecca, both Caffe Vita and Zoka Coffee made sure that we were caffeinated in style.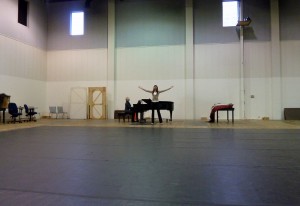 We settled in at SORS (Seattle Opera Rehearsal Studio) for the main event. Again, I failed at capturing an actual audition photo, but pianist Stephanie Rhodes gamely stepped in to recreate an iconic audition moment (at left, with Rahree at the piano).
And the 19-hour day ended with some Carmen, with Wolf Trap Opera Studio alumnae Amanda Opuszynski and Sarah Larsen (shown at left in rehearsal) onstage as Frasquita and Mercedes!