Final two rehearsals for Sunday's Make-Your-Own-Concert:
Mezzo-soprano Maggie Gawrysiak and I had our rehearsal in the theatre, to check balances. (We're already building the Rake's Progress set onstage, so the piano is on the house floor.) We prepped Joan of Arc's aria from Tchaikovsky's The Maid of Orleans, the Witch's aria from Hansel and Gretel and "You'll Never Walk Alone" from Carousel.  And then Maggie was tolerant and generous to me as I made hash of the accompaniment to Baba the Turk's aria from Rake's Progress… I have 2 days to learn it, though…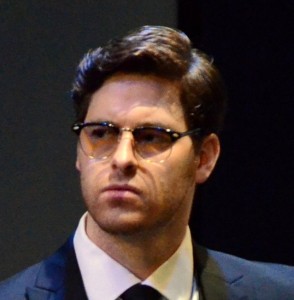 Tenor Jason Slayden brought four top-ten tenor arias… I have no idea how we're going to choose among them! "Una furtiva lagrima" from L'elisir d'amore, "Ah, lêve-toi, soleil" from Roméo et Juliette, "Questa o quella" from Rigoletto and "Che gelida manina" from La bohème. If I were a betting woman (and I'm not…), I'd have no idea how to handicap those options.