Tuesday's rehearsals for Sunday's wildly exciting make-your-own-concert: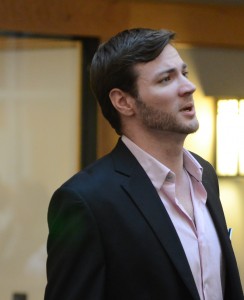 Bass-baritone Ryan Kuster and I made the rounds from the boy next door (Figaro) to the the testosterone-laden Toreador, and from the incurable optimist (Don Quixote) to the devil himself (Méphistophélès). We began with Mozart"s "Se vuol ballare" (The Marriage of Figaro) and moved into "Votre toast" from Bizet's Carmen. "To Dream the Impossible Dream" from Man of La Mancha was up next, and we finished with "Le veau d'or" from Gounod's Faust. (Bass-baritones have such a wonderful range of personalities available to them. :))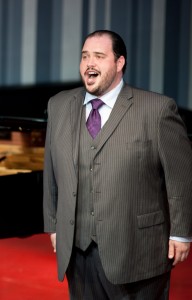 The only other rehearsal of the day was with tenor Eric Barry, who introduced me to the beautiful and dramatic "Fiora… È silenzio… " from Montemezzi's L'amore dei tre re. After I picked up all the notes I missed from beneath the piano, we covered some more familiar territory with Rodolfo's "Che gelida manina" from Puccini's La bohème, Federico's Lament from Cilea's L'arlesiana, and "Dein ist mein ganzes Herz" from Lehar's operetta The Land of Smiles.
I haven't had much time to play the piano this summer, so each hour at the keyboard this week brings me a little closer to being worthy of collaborating with these fabulous singers on Sunday afternoon!