A look back at Philly, only 48 hours ago…
Our new digs at Rock Hall on the campus of Temple University. The venue recommendation was made by a singer friend, and truly, it's an acoustic that a singer can love. [Translated: our ears were ringing, but we made our peace with it :)]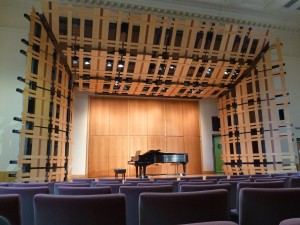 Lunch at the Noshery, where I ordered this sandwich. Obviously, I'm not yet saturated with all things operatic.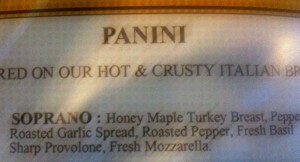 And, after a 12-hour travel day, we ended up in San Francisco last night, where we had amazing Indian food at Aslam's Rasoi with a wonderful collection of Trappers and Pennsylvanians. (How did the blond get in two photos??)
From my 22nd-floor perch in our hotel in the financial district, I was tempted to join the early morning Tai Chi class taking place outside the Chinese Cultural Center.
And so here we are, in the 5th floor Chorus Room of the San Francisco Opera, awaiting the 34 singers who will fill our Mondays with music starting in a few minutes.