Above: In the LA Opera audition room with Stephanie Rhodes (guest panelist), Joshua Winograde (LA Opera) and Jeremy Frank (pianist)
Opera is a Big Thing, but the opera industry is a surprisingly small network of interconnected families. We're in Los Angeles this week, and every time we come here, the Dorothy Chandler Pavilion feels more and more like a home away from home.
Yesterday, we caught the Schicchi/Pagliacci double bill performance at LA Opera, and there were quite a few Trapper sightings. The cast included Liam Bonner, Brenton Ryan, Stacey Tappan, and Craig Colclough.
We saw Liam before the show at Grand Park (with his faithful companion and Certified Adorable Dog Bennie):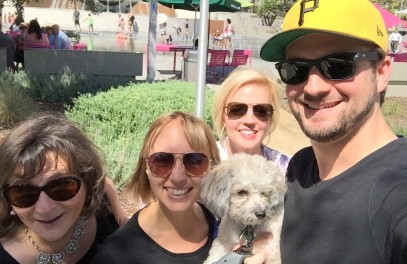 After the show, we caught up with Craig and Brent:

And a few days ago during my stopover in the beautiful Pacific Northwest, I met Maureen McKay, who is preparing to sing the role of Leila in The Pearl Fishers at Seattle Opera.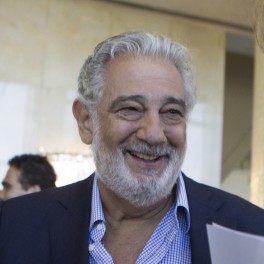 Oh, and lest I forget, today's lunch break brought another distinct pleasure. We ran into this gentleman in Rehearsal Room 3. He was kind enough to ask about Wolf Trap, wish us well for our auditions, fondly remember his concert at the Filene Center over 30 years ago, and remark on what a fabulous lady our founder Kay Shouse was.
The alarm rings at 5am for the flight to San Francisco – check back for a report from tomorrow night's Sweeney Todd!