Today, the first look at the operas that have ended up on the first iteration of our "short list" of possible rep for 2015.
But first, doughnuts!!!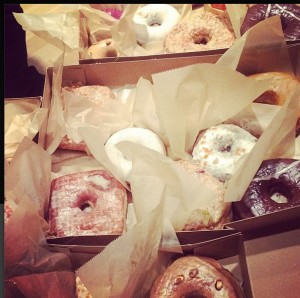 These landed in our room this morning, thanks to our every-thoughtful auditions monitor. The Doughnut Plant is just a few blocks south. (I'm so sad that I know that now…) We shared them with the front desk and the singers, of course!
Now, as I promised, a list of the operas that are currently at the front of our consciousness as we listen to prospective singers for next summer. Alpha, by composer. This list will morph significantly as we continue to hear auditions; the voice types represented by the singers in whom we are the most interested will dictate which of these operas end up on the 2015 season.
Britten – The Rape of Lucretia
Cimarosa – Il matrimonio segreto
Corigliano – The Ghosts of Versailles
Donizetti – La fille du régiment
Dove – Flight
Floyd – Susannah
Gassmann – L'opera seria
Glass – Orphée
Gluck – L'ile de Merlin
Haydn – Il mondo della luna
Haydn – La vera costanza
Keiser – Croesus
Massenet – Cendrillon
Mozart – Die Entführung aus dem Serail
Mozart – Il re pastore
Mozart – La clemenza di Tito
Mozart – Le nozze di Figaro
Rossini – Il barbiere di Siviglia
Rossini – La cenerentola
Rossini – La pietra di paragone'
Sullivan – The Gondoliers
Tchaikovsky – Eugene Onegin
And just so you don't despair that our Manhattan stay was completely consumed by things like doughnuts, we want to recommend Westville in Chelsea. More fresh, interesting and healthy vegetable sides than I have ever seen. I may have eaten beets, squash, plantains, broccoli, brussel sprouts and leeks all at one meal…
We're off to the midwest this weekend – see you in a few days.