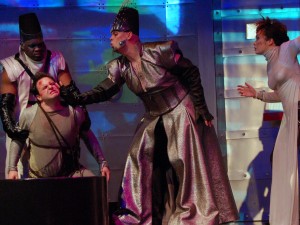 Over the last week I've had more honest and provocative conversations with our patrons than I've had in years.  Some are intrigued and others are outraged.  Although I'd prefer to avoid the latter, it's the flip side of the same coin as the excitement that's been present in the theatre during Zaide.
We debate the usual differences of opinion over setting the opera in a time and place outside of the 18th century.  Then I listen to personal and heartfelt responses to the violence that we've chosen to embrace in this story.  And I find myself in an unaccustomed and somewhat surprisingly position as I defend and clarify our choice.
I am an unlikely poster child for sanctioning violence in the theatre, for I am as lily-livered as they come.  I can't watch scary movies, and I am an enthusiastic reader who studiously avoids any literature that graphically describes the horror of war.  Do I cringe every night when I'm thrust into the inhuman environment of this Zaide?  You'd better believe it.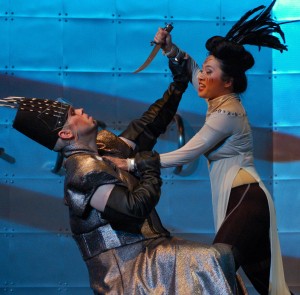 Left to my own devices, I would probably choose an artistic and emotional life that is skewed completely toward beauty.  I don't easily embrace any art that seeks to amplify and detail the darker aspects of our human condition. Too often I don't want to be reminded that evil exists.  But when producing an opera with a story that doesn't flinch when it approaches the subjects of slavery, death, and anger, it felt like a betrayal to soft-pedal the difficult parts.
"Tiger!  Sharpen your claws and rejoice in your stolen prey.
Kill us both and suck the warm blood of innocence.
Rip the heart out of my body and satisfy your rage." (Zaide)
A reverential approach might limit this opera to colorful harem pants, an escape by ladder, and a Sultan with a  fez.  Not that there's anything wrong with that.  But it's tough to reconcile that picture with the vividness of the text, and it's hard to look deep inside the soul of this intensely personal music of Mozart's and not take it to heart.
"The proud lion roars with a terrible voice
He throws his shattered chains to the earth in rage.
All who oppose him are destroyed by his deadly beatings…
When someone angers me, I have weapons that demand blood." (Sultan Soliman)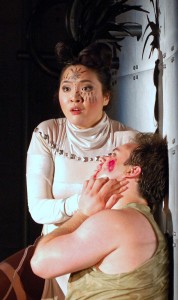 As we moved toward being brutally honest with the violent content of the story, at the same time we chose not to allow this violence play itself out in the original Middle Eastern setting of the libretto.  The frightening spectre of falling into slavery and imprisonment in the Middle East meant something different in the 18th century than it does today, and there's no way to raise the stakes without simultaneously raising unrelated political and cultural issues.
So here we are, in the middle of important conversations about the nature of theatre, the vibrancy of opera, and the always-amazing diversity of opinion.  I'm non-confrontational by nature, but these days I embrace raw controversy.  Because the opposite is unquestioning acceptance, and more than anything else, I want people to care.  Disagree if you will, and by all means, tell me about it.
Zaide is the first step in our summer journey.  Its raw emotion will be followed in short order by the laughter embedded in Rossini's Turk in Italy, then by the shimmering magic of Britten's A Midsummer Night's Dream.  Thanks for riding along with us.