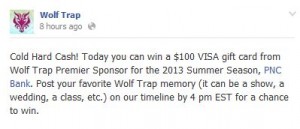 Today's contest on Wolf Trap's Facebook Page (go ahead, click it, like it, you know you want to…) asked patrons to submit their favorite Wolf Trap memory. The Wolf Trap Foundation is our parent organization, and it presents hundreds of concerts every year across a dizzying array of genres. We love opera, you and I, but our beloved art form doesn't have the pop culture power that can compete with the likes of Riverdance, James Taylor, Aretha Franklin and Train. So you can imagine my surprise when I saw the following entry in today's contest:
I think there is one moment that changed me forever. On August 24, 2011, I went to "Opera's Greatest Hits from Wolf Trap Opera's Alumni Stars" not because I really wanted to, but because I had to write a school assignment for my music appreciation class. I sat towards the back, just trying to get it over with. After a few minutes, I became immersed in the music. At the intermission, I asked if I could move to one of the seats in the pit since it wasn't totally full. That night changed me completely. I had an all-new appreciation for a new type of music. From that moment on, I started trying to sing as much as I could and improve my own singing ability. Now I'm studying music in school and learning to sing opera myself! I think that if I hadn't been forced to write that paper, I would never have come to appreciate that style of music, which is what I primarily listen to now.
I needed a little boost, and there it is.
Tomorrow, here on the blog, we get all nerdy. The aria frequency lists are now updated with the first choices of this fall's singers, and tomorrow we'll do some sexy data analysis. I know. You can hardly wait.