We are thrilled to introduce you to the newest member of the Wolf Trap Opera team! Jon DeVries joined us in early January 2020 to take on the role of Coordinator, Company Management; he keeps our finances in order and our artist services on point.
If you need a refresher on the rest of the team, you can find us all here.
I am extremely excited to join the Wolf Trap Opera team and looking forward to establishing an artistic home amidst the thriving arts community at Wolf Trap. Most recently, I was out in the mountains of Colorado working as the Company Manager for Theatre Aspen, highlights of which included a co-production of South Pacific with the Aspen Music Festival and surviving three bear encounters.
My prior work in performing arts administration includes three summers in upstate New York working in artistic operations and residence management for The Glimmerglass Festival, as well as a summer in the Windy City, working in publicity for the Goodman Theatre. I have also had moments in the spotlight, performing on stage with Florida Studio Theatre, touring with Lexington Children's Theatre, and even singing in my first opera with The Glimmerglass Festival. I am a graduate of Calvin College in Grand Rapids, Michigan, where I received a Bachelor of the Arts in Theatre and Business with concentrations in Finance and Marketing. Even with all of my traveling for work, Chicagoland, and more specifically, Chicago deep dish pizza, will always be my forever-home.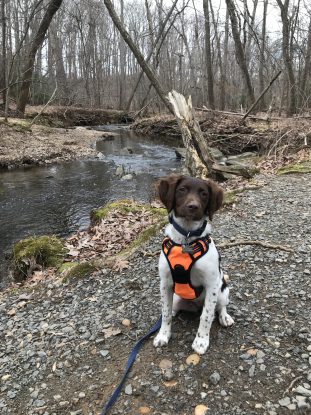 When I'm not at work, I take on the role of full-time dog dad. Lily, my five-month-old Brittany Spaniel puppy, is slowly but surely settling into her life with a working single parent. She loves going on runs when her dad is home, and even enjoys some forced classical music time when her dad is away at work. But the best part is, she gets to explore the beautiful grounds of Wolf Trap's National Park and all the surrounding landscapes that Northern Virginia has to offer.
I would like to say Lily keeps me young, but in reality, she's aged me at least ten years. I have a new appreciation for all the single parents out there. Imagine having to do that, but with a human baby. Bravo.