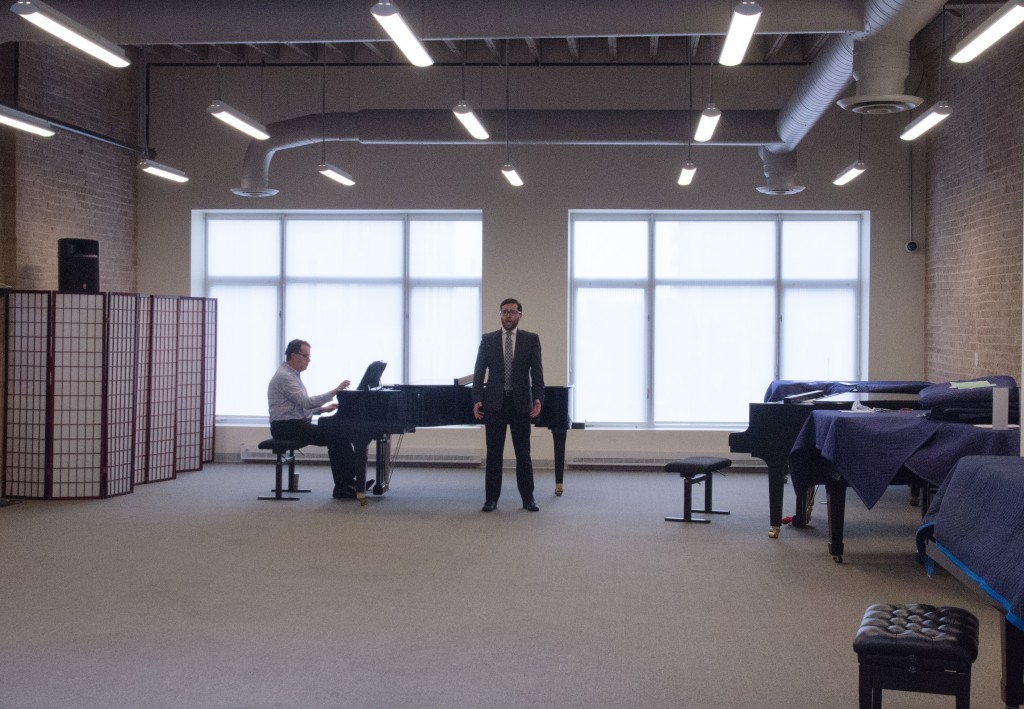 Our Chicago week was spent in a lovely room with natural light at Pianoforte Studios on S. Michigan. The staff was terrific, the acoustics was blessedly neutral, and we were surrounded by keyboard instruments. (There's a Grotrian Steinweg under wraps in the far right corner of the photo; it's the twin of my piano at home!) Spending time with beautiful pianos reminded me that it was time to share the results of my recent crowd-sourcing experiment.
About a week ago, one of Wolf Trap Opera's coaches was wrapping his fingers and brain around the aria "Do Not Utter a Word" from Samuel Barber's Vanessa. He took a break from practicing to send me a wonderful suggestion for a blog post. The prompt? Which arias are difficult or otherwise problematic enough that they can be classified as "sing-at-your-own-risk" when not bringing your own pianist to an audition?
I polled the pianist hive mind and was rewarded with a flurry of emails, Facebook comments and texts. I guess I had the expectation that I could pretty much predict what would end up on the list. In the end, I was wrong.
The list of arias that I compiled was exponentially longer than I expected. And there was a far less agreement on what was problematic than I imagined. I heard from audition pianists with decades of experience, from people who play everything from academic to YAP to company and manager auditions. What follows is my attempt to organize and interpret the list of over 50 arias submitted in answer to my question.
"Mature" Rep
Many people listed arias from roles that we consider "mature" or "heavy." This is a predictable trend. First, the vast majority of auditions are played for singers who are in the first several years of their careers; once they graduate to big warhorse roles, they are more likely to be cast based on prior outings with those roles rather than from auditions. And second, the percentage of voices who sing this rep is a small subset of the overall.
Wagner arias (typical exceptions: "O du mein holder Abenstern," Dich theure Halle," Elisabeth's Prayer)
Arias from Berg's Wozzeck and Lulu (some pianists include "Lied der Lulu," some omit it)
Most Richard Strauss arias, notably those from Salome, Arabella and Die Frau ohne Schatten (typical exceptions: Composer's Aria, Lieben Hassen,
Rare Slavic and Russian rep (a little vague; best understood by common exceptions "Song to the Moon," Onegin's and Lenski's arias, Yeletsky's aria)
Mefistofele's Serenade from Berlioz's Damnation of Faust
Hard to Read (sometimes also Hard to Play…)
This list comprises thick and thorny rep that is tough to sightread and isn't common enough that most pianists have had the chance to thoroughly learn and retain it. Many of these arias were written in the last couple of decades, with a smattering of rep from the mid-20th-century.
Arias from Nixon in China
"Batter my Heart" from Doctor Atomic
"Do Not Utter a Word" and "Outside this house" from Vanessa
"Non monsieur mon mari" from Poulenc's Les mamelles de Tirésias
Fire Aria from L'enfant et les sortilèges
Baba the Turk's aria, Nich Shadow's arias, and Tom's "Vary the Song" from Stravinsky's The Rake's Progress
Britten arias sit in a vague and ill-defined area of this list. Some pianists feel that almost all of these are standard enough not to cause concern, but there are quite a few experienced and respected players who feel that they should still be sing-at-your-own-risk: "How Beautiful It Is (Tower Scene) and "Miles" from Turn of the Screw, Tarquinius' Ride from The Rape of Lucretia, Peter Grimes' mad scene, almost anything from Albert Herring, Hermia's aria from A Midsummer Night's Dream .
Sweeney Todd's "Ephiphany"
It is unfair to bring open score or figured bass arias into an audition. All excellent opera coaches can play from open score or figured bass, but this skill is appropriately exercised in the rehearsal room, not in audition when a significant part of the pianist's attention is diverted to collaborating with a brand new partner.
Hard to Play
This is different from the previous list in that these arias are pretty straight-forward on the page – simply harmonic structure and easily read melodies and rhythms. The problem is not one of interpreting the printed page, it's rather one of getting your fingers to execute an aria that isn't often encountered.
There are baroque arias that run the gamut of impossible to slightly problematic. This rep is too wide-ranging for me to name specific arias; suffice it to say that if it's marked something like Vivace or Allegro molto, there's a good chance that your pianist will sacrifice some of the notes. And if the composer is Vivaldi or Scarlatti (instead of Handel), this effect is even more pronounced. :) Common exceptions: "Svegliatevi," "Tornami a vaggheggiar," "Arise." (There are others.)
There are a few early Mozart arias that fall into this category. Examples are "Fuor del mar" (extended version) and Idamante's "Il padre adorato"
And finally, we have all internalized "Mab" from Romèo et Juliette. But depending on the phase of the moon and path of Mercury (and your preferred tempo) it may or may not go well.
Borderline Arias
There wasn't general agreement on these, but they were mentioned more than once. A mix of technically difficult things and arias that aren't often sung.
Strauss – "Wie du warst," Presentation of the Rose, Zerbinetta's aria, "Es gibt ein Reich
Stravinsky – Anne Trulove's scene, Rakewell's arias
Floyd – Arias from Cold Sassy Tree
Starbuck's aria from Moby Dick
---
Off to Philadelphia tomorrow, then back to Virginia for a few days of prep for my Friday  concert with the inimitable Jamie Barton. :)
Rachmaninoff! Ives! Brahms!
Chocolate cake!