This is a short update, to both apologize for the lack of posting and to fill you in – albeit briefly – on our doings here at WTO.

As you can see from the schedule above, we're at critical mass. Each color represents a different project, each column represents a different space: rehearsals, fittings, coachings, meetings all happening in every space we have. (And quite a bit of vocalizing is going on in shared spaces, too… the lavatories throughout the Foundation are alive with the sound of singing!) 
I am writing this from a work table in The Barns, where the cast and crew are preparing for their first technical rehearsal for the double bill that we've titled The World Turned Upside Down. The first piece, Gluck's Merlin's Island gave us the name for the evening, as it's subtitled Le Monde Renversé. Two Parisian sailors are shipwrecked on an island, and fall in love with two ladies, who just happen to be Merlin's nieces. On this island, the rules and social morés are quite different that those of Paris, and shenanigans ensue! It's a fun, romantic romp, and the musical language will sound familiar, even to modern ears.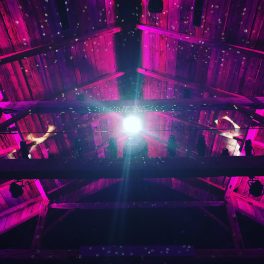 The second piece's genesis is fascinating. Created in the artist ghetto in Terezín, Der Kaiser von Atlantis was written by composer Viktor Ullmann, with the intention of performing it with and for the imprisoned artists therein. A thinly veiled critique of the Third Reich, the piece was smuggled out of the camp and wasn't premiered until the 1970. (There is much more to be learned about Terezín in this documentary.) This opera, like the Gluck, also asks the question "what happens to society when the fundamental rules have been changed?" The story is less linear in this opera, and the stakes are quite a bit higher; even with that, there are moments of sweetness and levity. It's a powerful piece, and the musical language ranges from jazzy to quasi-Stravinsky to a chorale straight out of a hymnal.
More on our other premiere in a few days. Stay tuned!