The singing has started, and the audition tour is ON! We're already on Day 2 in New York, and we've heard more Handel this weekend than we sometimes do in a whole month. Trend? Hmmm….
A reminder: If you would like to be considered to sing for us in Cincinnati (November 6, 7, 8) or Vienna VA (November 11, 12), you have until tomorrow night (Monday October 7) to apply.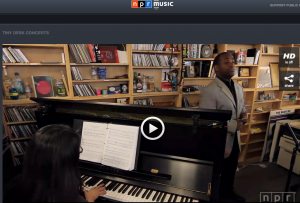 Meanwhile, for your weekend enjoyment, WTOC alumnus Lawrence Brownlee and WTOC staff coach Justina Lee are on an NPR Tiny Desk Concert. Check it out.