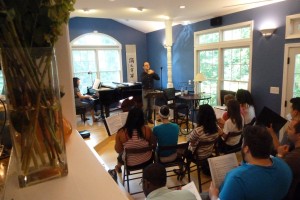 I hate that all my recent blog posts have been terse announcements, but it's been quite the ride. As we sit waiting for electricity to be restored (something that Dominion Power told us will happen any minute now…), I offer this recap. (Photo at left from the Rake music rehearsal taking place in my house as I write. "Lanterloo" is inspirational background music.)
FRIDAY, JUNE 29
8:05 pm – Giovanni achieves kick-off to a packed opening night house who seems to enjoy itself more than we could've anticipated.
9:30 pm – The intermission break involves a lot of staring at radar maps on smartphones, watching in disbelief as something called a derecho (who knew?!?) marches toward us.
10:25 pm (or thereabouts… it all runs together now) – A few power flickers and blips lead quickly into a complete loss of electricity. Elvira is stopped mid-recitative. ("La fatale saetta", indeed…)
10:30 pm – I make a series of brief appearances onstage, lit by our ASM's flashlight, to ask the audience to wait a few minutes with us to see if power will be restored. I make lame jokes and recall our 2003 Barber, when a power outage forced us to leave Rosina, Almaviva and Figaro on the upper floor of Bartolo's house forever. (The very definition of "failure to launch" – living forever in your girlfriend's dad's apartment, with your factotum by your side.)
10:40 pm – We reluctantly declare the evening at an end, and a very disappointed yet collegial Ryan Kuster joins me onstage as I tell the audience that this one evening, it appears that Don Juan acted with impunity.
11:00 pm – The storm abated, we get everyone out to their cars before the emergency lights fail. We pick our way through the building with flashlights to make sure no one is left behind, and everything is OK.
SATURDAY, JUNE 30
Almost all of us wake up to no power, lots of traffic lights out, and the temperature rising to 100. I blow through some free-floating anxiety by taking a 20-mile bike ride with my husband, marveling at the almost unprecedented damage on the W&OD trail (a main power line thoroughfare). The rest of the day is spent crafting what-if scenarios for tomorrow's matinee performance. Plenty of adrenaline but nowhere functional to put it.
SUNDAY, JULY 1
5:15 am – I wake up every hour to call the Barns Box Office number, hoping that I'll get the voice mail instead of the "your call cannot be completed" message, and at 5:15… success! Thinking that we are home free, I get dressed and drove to the theatre, only to find it was a cruel hoax.
8:45 am – We start making contingency plans for a rescheduled July 3 performance. Thanks to the responsiveness and flexibility of the cast, crew, staff and orchestra, within an hour we know we can swing it.
10:15 am – We craft an email message to patrons and put notices up on website, blog, Twitter, Facebook.
11:00 am – A team of 7 of us start calling every ticket holder for the day's performance. We are met with the predictable mix – an overwhelming majority of folks are sympathetic and full of good will, and a handful are irate. (God bless people with careers in customer service.)
1:10 pm – Still calling. A handful of folks arrive for what would've been my 2pm pre show talk. We talk with them and send them on their way.
2:20 – The last calls are made. (More than we would like simply haven't gone through because the remaining phone circuits are overloaded.) Loops are closed with front-of-house staff, orchestra, costume & scene staff, artists.
(P.S. -All of the above is done, of course, on cell phones in 90+-degree heat.)
2:50 – Box Office staff remain to greet any folks who still haven't heard (including those without power at home, thereby unable to receive all of our emails and phone calls…), and I head off to pick up food for the Will-This-Show-Ever-Open consolation party at my place.
5:00 – About 30 of us gather for sandwiches and stories of electricity-free adventures. That's what we get for creating a 21st-century production of a Mozart opera; we all get thrust back into 18th century darkness…
MONDAY, JULY 2 (All rehearsals and meetings held offsite as WT is still dark…)
10:00 am – Cory & Roxanna meet at the Reserve apartments to plan transportation, lodging and paperwork details for this weekend's Recitative seminar.
11:00 am – Lee Anne and I tackle the 2013 budget in my sunroom. Nemesis renders and edits video from previous productions. Jiwon does tomorrow's schedule.
12:00 noon – Music staff hold a meeting at Caffe Amouri.
2:00 pm – Studio Artists gather for scenes notes/rehearsal in the music room at my house, and Bel Canto recital cast gathers for rehearsal at one of our housing host's homes. Studio continues with Rake's Progress ensemble rehearsal.
5:00 pm – Dominion Power has projected that we'd be restored by around 5 this afternoon. I begin refreshing my email every 90 seconds.
9:08 pm – The lights are on. Exhale. Let's celebrate by singing our faces off. Tomorrow night.