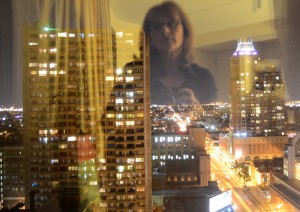 I'm finishing up two and a half days in Philadelphia (brilliant view from my hotel at left), shaking up the world of opera with colleagues from Opera America. In an attempt to synthesize the ideas and energy that result from an opportunity like this, I usually craft a written summary. This time, I've decided to post it here (Conference Notes) just in case you want to know what a bunch of opera geeks talk about.
If you're mildly curious but feel that a 5-page PDF is overkill (and what sane person wouldn't?), you could check out my Twitter stream at www.twitter.com/kimpwitman.
Tonight brings a performance of Dark Sisters across the street at the Kimmel Center (featuring WTOC alums Margaret Lattimore, Eve Gigliotti and Kevin Burdette.) Tomorrow morning I'm on a panel as part of the Artist Intensive, giving advice to singers on how/when to ask for audition and competition feedback, and what to do with it when they get it. Then it's back to the Trap in for a weekend of work, to see what has been going on with our Giovanni friends in the last two days!