We're already 252 arias into our audition tour, and I'm finally checking in with the blogosphere. I still love you, honest I do…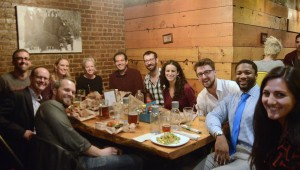 The New York week was jam-packed, as it so often is. We sat down for 5 days at the National Opera Center, in a place that makes performers and auditors alike feel like actual human beings. (You'd have to spend some time at other NYC audition space options to understand how rare this is…) It was a strong start; the singing seemed to settle in at a higher level than in some recent years. The hours before, between and during auditions were spend meeting with prospective directors, conductors and designers, catching up with colleagues, going to the opera (my Russian week at the Met: Shostakovich's The Nose and Tchaikovsky's Eugene Onegin!), catching a Juilliard master class with Richard Bonynge, and enjoying the NYC meet-up with former Wolf Trappers who are in town. (above left)

We spent yesterday in Philadelphia at the Curtis Institute, hearing another really exciting group of 31 singers. I write this morning from Gate 32 at DCA, waiting for our flight to Chicago.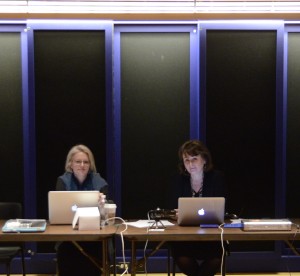 Trends?
More intriguing singing from mezzos and countertenors… enough to throw a pile of Baroque operas back on my short list.  In the first 45 minutes of the first day, we heard three Handel arias, two of which were new to me.
One soprano aria surfacing more frequently than ever before: the title character's arioso ("Отчего это прежде не знала") from Tchaikovsky's Iolanta. A few characters haven't shown up at all in the audition room yet… Norina (Don Pasquale) and Rodolpho (A View from the Bridge) have forsaken us entirely so far, and Mozart's Figaro has only gifted us with "Se vuol ballare" (no "Non più andria" or "Aprite" yet, sadly.)
I normally don't spend a lot of time on audition attire, but there are trends there, too. In general, I'd have to say that the clothes are far less formal than they were just a few years ago. If I have to make a qualitative judgment, I'd say that's a good thing. Yes, there were a few outfits that felt underwhelming in the care that was taken with them, but in general, the attire is simpler and allows us to focus on the person and the singing. Mostly for the ladies, that means less fussiness – fewer scarves, less bling. One cautionary word, though: if you're wearing one of those beautiful (and easy-to-travel-with) jewel-tone clingy dresses, please invest in some foundation garments. Look at yourself in a full-length mirror and sing coloratura. Even if you're not zaftig, things bounce. It's TMI.
OK, back to the music.
Since we don't pick our repertoire until we hear the singers, we're researching and vetting possible 2014 operas while we're on the road. Right now, the short list has 27 operas on it; give me another week or two, and I'll share the trimmed down version as we begin to gravitate toward some pieces and kick others to the curb. The Chicago update will follow this in a few days. Have a great week!