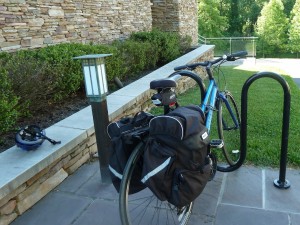 In honor of Ride Your Bike to Work Day, I offer this one-minute video on my commute :)   After only 3 months on two wheels, I am completely addicted. Sad beyond belief when I wake up to pouring rain. We'll see if this enthusiasm lasts into the 95-degree / 90% humidity summer!
And on a more WTOC-specific note, surf on over to Wolf Trap's From the Inside Out blog for my colleague Lee Anne's take on Five Things You Didn't Know About Wolf Trap Opera.
And I'm off to Charlottesville, Virginia, for a most important graduation. Have a lovely weekend!