Once again, the summer has drawn to a close, and I am regretting the lack of personal commentary in this space over the last few months. So much to do, so much to tell you about. Ultimately, we have to choose the former over the latter. But now that it's over, I hope you'll indulge this public/private debrief.
[TL;DR version: It was a fabulous summer from the outside, and a beautiful one on the inside.]
Tosca, or The Little Company That Could
We delivered a spectacular night of grand opera to about 4,000 single-ticket buyers (no subscriptions here, boys and girls…) in our big amphitheatre this July. Contrary to what the press reported, we are the only multi-genre U.S. summer festival (opera companies excluded) that produces opera on the regular. And yes, it was only one night, but in this world, a score of one is something to be proud of. Along with the small risks and liabilities of opera outdoors (in this case, rain and microphones…), there was an abundance of passion, power, and personal bests.
My personal experience of the Filene Center opera is a pretty wild ride. An unavoidably brief tech rehearsal period means hot and long 18-hour days. The once-a-year unique collaboration between WTO, the National Symphony Orchestra, the National Park Service, and our IATSE crew is an intense exercise in quick and creative problem-solving. Layer that over a "stretch" opera (Tosca is an anomaly for a young artist company, to be sure), other ongoing projects (rehearsals for scenes and the August opera among them), and life (including impending parenthood for one of the cast members!), and you have a recipe for exhaustion and exhilaration.
Pushing the Envelope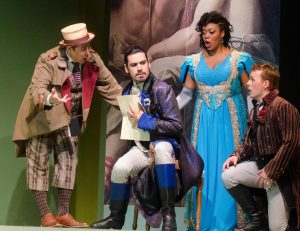 Opera at The Barns runs the gamut. Repertoire from 1644 to 2011, productions from opulent to austere and from traditional to indie.
This June's Rossini production included affectionate winks toward tradition and colorful modern accents.
The Double Bill in August was at the other end of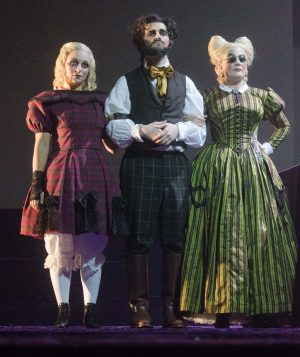 the spectrum – edgy, crunchy, unpredictable.
Add these to the Filene Center Tosca – a period design delivered by 21st-century technology – and you have a diversified portfolio that is characteristic of many modern opera companies.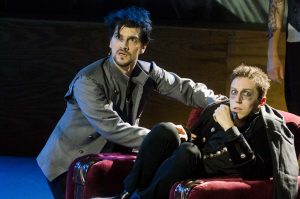 But increasingly, it doesn't stop there.
We did a Fall of the House of Usher in a warehouse in northeast D.C., started a collaboration with a young artist orchestral program (NOI) in suburban Maryland,
and commissioned and produced an opera for preschoolers. And there was a quartet recital, an interactive aria concert, a scenes program, and pop-up performances.
Personally? I am both heartened and fatigued by the volume and variety of work that is done here every summer. Heartened because it's a sign of vigor and artistic curiosity. Despite the unfortunate (and mistaken) notion that opera is an antiquated art form, many of the people who inhabit our art form are fearless, adventurous and forward-thinking. I am regularly stopped in my tracks by the combination of generosity, openness and self-discipline that our artists and staff lavish on their work. Their presence in my life is good for the soul.
But I am somewhat fatigued by seemingly fragmented attempts to find the way forward. Opera in our time is aggressively Janus-faced, nervously glancing over its shoulder (where most of the funding still lives) while peering excitedly at what lies ahead. Honoring the old while embracing the new has always been at the core of the artistic life, but these days it takes on more and more urgency. If there are aspects of opera's old business model that must be abandoned, we have to be sure that the new models are sustainable and capable of providing a living wage for artists. And of course, we must protect the traditions and values that have sustained this art form for over 400 years. A tall order.
Creating a Community
When it's all said and done, the productions and performances aren't what sticks with me. The true essence of summer at WTO is the people who call this place hope for three months. We exist to further their growth, develop their careers, and help position them to make a difference in our culture. And they matter more than anything.
This summer we were a resident company of 46 young singers, directors, coaches, administrators, and technicians. They ranged from college undergraduates (in our apprenticeship program) through graduate students (most of our Studio Artists) and young professionals (our Fellows and Filene Young Artists.) They came from all over the country and a few far-flung parts of the world. And they made this place hum.
We're here to create memorable performances for our audiences and provide growth opportunities for our artists. But it doesn't happen in a bubble. People get sick, financial worries intrude, relationships falter, world views change. Not all of the drama happens onstage. And sometimes life doesn't imitate art, it vaults right past it.
One of the most lasting effects of these months will be the colleague relationships our artists will carry into our business. Our goal is to give them the experience of doing their best while wholeheartedly supporting each other. Sounds a little sentimental and precious, I know, but I'll own it. Because the supply-and-demand of the classical music business is decidedly not in favor of artists, it's really easy for a scarcity mindset to take over – to believe that if you push someone else off as you're climbing up the pyramid, that may not be a bad thing. And while the raw math of the situation can't be denied, that mindset serves no one. So we do our damnedest to overcome it.
Seeing a beautiful season like this one in the rear-view mirror, I realize that I was privileged to be part of it. And I hope that the thousands of others who either created or witnessed Summer 2017 feel the same way. Let's do it again, shall we? Auditions start in 5 weeks.