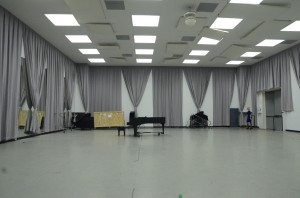 I'm told that typical casualties of Mercury in Retrograde are travel problems and mechanical breakdowns. Houston is typically one of the happiest stops on our audition tour, but this year it seems that Mercury had other plans for our Texan trip. I can't say I wasn't warned.
It started with a 4-hour mechanical-difficulty delay flying out of San Francisco (complete with a takeoff that was immediately turned back around), which resulted in our missing the connecting flight in Austin. By the time we arrived, the airport was shutting down for the night. So Thelma and Louise rented a car and hopped on the highway, singing along with Billy Joel and Journey all the way to Houston.
The 14-hour travel day was followed by a series of technical malfunctions – the computer broadband card decided to give up, and I broke both my phone Bluetooth headset and my lovely analog watch. There were flash floods and tornado warnings, and we got lost in the underground tunnels trying to avoid the deluge after we lost our umbrellas. (And after it was over, luggage was lost on the next travel leg.) All in all, a hot mess.
Thank heaven for the singing.
There was beautiful music making by the 78 singers who auditioned for us, and some terrific Verdi delivered by the cast of Houston Grand Opera's Aida. There was also a uniquely entertaining audition
monologue by one of our 2013 Studio Artists, a chance to catch up with former Trappers in our Houston Meetup (at left), and opportunities to meet colleagues both old and new. Houston was redeemed, and Mercury was blamed.
An Arizonan Interlude…

Since there were three days before we were due in Cincinnati, I somehow decided that was just enough time to head to Arizona for a recital and a master class. On Sunday, WTOC alum Ryan McKinny and I rocked the matinee performance at Phoenix's Musical Instrument Museum, in Arizona Opera's Voice Lab series. And on Monday, the Pullin Opera Studio artists and I explored audition arias for some of Arizona Opera's donors and supporters. All of it was a ruse to have a chance to visit Ryan Taylor, former WTOC Manager of Community Development and current Arizona Opera General Director. (The weekend also included a reunion with Ollie the Wonder Dachshund, rattlesnake brats, human-sized Jenga, and a brisk Sunday morning swim.)
Cincinnati and Vienna remain; 5 more days of arias. The short list is beginning to telescope a little more, and we'll see how it morphs and responds to the inspiration of the 153 singers we'll hear between now and next Tuesday!