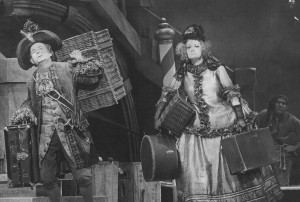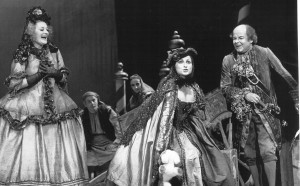 This Gondoliers marked the third time that the Filene Center was graced by the presence of baritone Donald Gramm. Recent alumni of the WTOC training program (which was formally on hiatus in 1978) filled out the cast.
Mr. Gramm returned for several more performances over the next few years, both with the WTOC on with the Met on tour. An elegant and accomplished singer, he appeared hundreds of times with the Metropolitan Opera before dying all too early at the age of 56 (in 1983).
I hear that the gondolas in this production were the Most Amazing Gondolas in the History of the Theatre. There were three of them, and they ended up being given to local schools for their playgrounds!  Recycling, 1970's style, without fear of lawsuits, obviously!