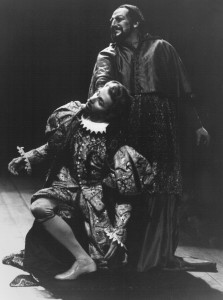 The DC premiere of Busoni's Doktor Faust was an ambitious undertaking for the 6-year-old Wolf Trap Opera Company. It was produced and directed by Frank Corsaro, conducted by Cal Stewart Kellogg, with sets and costumes by Zack Brown. My late colleague Randolph Mauldin was chorusmaster, and the inimitable Stephen Lord was a member of the music staff.
Such a project needed established artists at the forefront, though, and WTC young artists provided support in small roles.  Richard Stilwell did the heavy lifting in the title role, assisted by Kenneth Riegel as Mephistopheles.
Not surprisingly, the American professional premiere of such a difficult work garnered a good deal of attention; and the reaction ran the gamut from "a milestone in the theater" to "boo and hiss".  Among all the archive materials I've plowed through while writing these posts, the Doktor Faust file was the largest by a factor of ten. I wasn't there, but I still hear stories. Adjusted for inflation, the production cost about a million dollars. (In order to get video footage of a piano burning on a beach, I understand that the team went to Germany to set a piano on fire.)  It must have been an exhilarating, maddening, exhausting and exciting ride.