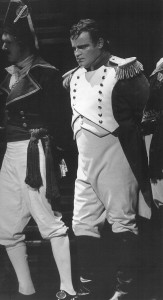 Sarah Caldwell produced and conducted the epic August 1974 production of Prokofiev's War and Peace.  Maestra Caldwell was profiled shortly afterward in Time, and the combination of this production and the previous month's Daughter of the Regiment must've made the Filene Center an incredibly exciting place in the summer of 1974.
The cast included John Reardon, Donald Gramm, Harry Dworchak and Neil Rosenshein (a former WTC young artist), as well as the entire young artist roster of that summer's Wolf Trap Company.
Such a project seems almost unimaginable for a company with no dedicated rehearsal space. I can't find complete proof, but photos seem to indicate that rehearsals were held at the Madeira School (the site of two chamber opera performances that same summer, and the housing location for the company during many of its early years).  On top of that, the first Filene Center (you'll have to wait for 1982 for more info on this…) was significantly lacking in backstage and loading dock facilities.  Perhaps that's why the photo  below holds such fascination for us at WTOC.