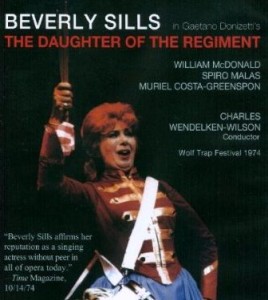 If you've stumbled across anything about the early days of the Wolf Trap Company, it's probably the DVD of this production.
Starring Beverly Sills as Marie, Spiro Malas as Sulpice, and William McDonald as Tonio, and directed by Lotfi Mansouri, this Daughter was a landmark achievement for the our organization. It even got a review in Time magazine.
The chorus, as was our custom in the 1970's, was formed from the young artist program. It included 35 aspiring singers, including Rockwell Blake, Donnie Ray Albert, Janice Hall, and Judith Christin.