The 1974 season seems to have been a landmark in two very different ways.
First, the productions of Daughter of the Regiment and War and Peace at the Filene Center brought national attention to opera at Wolf Trap. Big name casts and the subsequent video release of Daughter shone a new light on our organization. Ultimately, it wasn't a direction that we ended up taking, but it lent important momentum.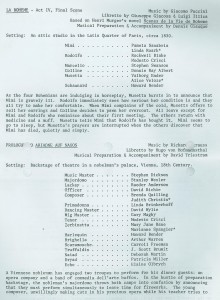 Second, under the leadership of John Moriarty, who assumed the title of Director of Training for the Wolf Trap Company, new emphasis and clarity seem to have been imposed on the young artist roster. These singers received their own production (including a world premiere!), they had their own scenes program (above and at left – click to view; sorry about the punch holes), and the Company brought in faculty to work with them on movement, acting technique, improvisation, and general musical coaching.
From the scenes program playbill:
"The Wolf Trap Company is a truly unique organization, affording forty young performers the opportunity to study and perform in the stimulating atmosphere of the nation's first national park for the performing arts. Having been chosen from nationwide auditions, these young people participate in a demanding summer of classes in diction, movement, improvisation and staging taught by a most distinguished faculty of educators and professionals…This evening's workshop performances are designed to prepare our young artists for major roles in long and prosperous careers."
The summer also afforded a concert opportunity at the Filene Center, with young artists featured in Vaughan Williams' Serenade to Music and Mendelssohn's incidental music to A Midsummer Night's Dream, on a bill with Jack Benny, violinist! (I had no idea that Benny played the violin seriously, but Wolf Trap must've been part of a handful of orchestral engagements in the last years of his life. He played Mendelssohn's violin concerto on this concert.)
Members of the 1974 Wolf Trap Company
Donnie Ray Albert
Raeder Anderson
Jane Bane
Howard Bender
Rockwell Blake
Virginia Boomer
Linda Brinkerhoff
J. Scott Brumit
Judith Christin
Modesto Crisci
Stephen Dickson
Valborg Ender
Carroll Freeman
Loretta Giles
Allan Glassman
Janice Hall
Edmund Koury
Deborah Martin
Byron Matthews
Martha Medford
Janice Meyerson
Patricia Miller
Elaine Olbrych
Brenda Quilling
David Richie
Linda Roark-Strummer
Neil Rosenshein
Pamela Sanabria
Linda Lane Smith
Marianne Spangler
Stephen Swanson
Peter Van Derick
Alice Veloza
Stanley Wexler
David Wylie