The second year of the Company featured four full-length productions: The King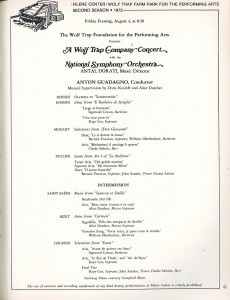 and I (with guest artist Roberta Peters), Roméo et Juliette, Treemonisha, and The Marriage of Figaro (with guest artists including Phyllis Curtin, Norman Treigle and John Fiorito).  The Company comprised 49 singers and 23 dancers.
In addition, WTC singers performed with the National Symphony Orchestra under Antal Dorati, offering scenes from Il barbiere di Siviglia, Don Giovanni, La bohème, Samson et Dalila, Carmen, and Faust. Company members also appeared in Wolf Trap on Parade – a showcase including Vivaldi's Gloria, Vaughan Williams' Serenade to Music, selections from The Magic Flute, and Earl Robinson's Ballad for Americans.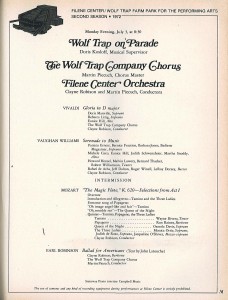 Members of the 1972 Wolf Trap Company
Singers

Barbara Dale Allen
Lynn Anders
Barbara Atwood
Carmen Balthrop
Scott Bodie
Michele Cisco
Sigmund Cowan
Kaye Cox
Jeff Dalton
Kimberly Daniel
Patricia Ernest Davis
Rafael de Acha
Judith de Rosa
Bernice Fraction
Carroll Freeman
Earl Grandison
Howard Hensel
Eunice Hill
Wade Holland
Thomas Holliday
Randi Jagel
Judith Keulen
Elizabeth King
Dorothy Krikorian
Cody Lillie
Rebecca Littig
Melvin Lowery
Kathryn Luster
Badiene Magaziner
Doris Manville
George Merritt
Billie Louise Nash
Jimmie Lu Null
William Oberholtzer
Monica Ortiz
Jacqueline O'Shiver
Ron Raines
Georgine Resick
Donald Richardson
Wayne Rivera
Clark Salonis
Martha Gayle Snoddy
Bernard Thacker
Cliff Thomson
Joanne Vattilana
Gary Willard
Robert Williamson
Roger Winell
Linda Zoghby
Dancers
Joel Blum
Diahanne Brown
R. Steve Brown
Phil Cole
Tony Constantine
Clif De Raita
Ludmila Dokoudovsky
Mary Florendo
Elijah Gill
Linda Gold
Paul Herschberg
Cortlandt Jones
Theresa Kim
Sherry London
Mary Miller
Andrea Minick
Catherine Paine
Vivian Saragosa
Cathy Segreti
Jacqueline Smith
Martin Tracy
Gatsie Wall
Richard Wilczynski