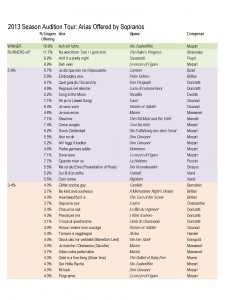 OK, ladies… here's your iteration of the Soprano Aria Frequency List for this audition tour. Clicking through should show you a large PDF.
I churn these statistics by downloading all of the arias that sopranos include in their 4-aria list, then sorting by the number of times each aria is mentioned. This year I summarized the data by the % of singers who listed any given aria. Within each segment, I've sorted by composer so that it's a bit easier than usual to find things.
Trends? I don't have enough time to spend with the data to be comprehensive. But a few things jump out:
Wider Variety: Last year's list comprised 175 different arias; this year the number is 232.
Heavier Fach: A greater proportion of this year's arias are in the full lyric+ category. Don't read too much into this, though. It could just mean that the types of voices who applied for the program skew slightly larger. (Or it could mean that ladies are singing bigger than they should… hope it's not the latter…)
Favorites: Pamina's not going anywhere soon, it seems. Anne, Susannah and Susanna remain near the top of the list, but Musetta has lost ground. Gilda has been dropping in the polls for a few years now. (Not a bad thing in this context.)
Enjoy, and as always, send me corrections if you see mistakes! (spellings, attributions, etc) Proofreading time during audition tour is a little sparse. :)