It's been a busy week here at the Trap!
We've been in technical rehearsals for Strauss' Ariadne auf Naxos, which opens tomorrow (Friday, July 19) at The Barns. The production is set in the time period in which the piece was written, and there are beautiful homages to the work of visual artist Gustav Klimt and the Viennese Secession movement in the scenic and costume designs. Our artistic team, director Tara Faircloth, scenic designer Laura Fine Hawkes, costume designer Rooth Varland lighting designer Bob Grimes and conductor Emily Senturia have created a glorious world for our artists to inhabit.
A mere 10 hours after we wrapped the invited dress rehearsal, we were back to welcome our team for our Filene Center show, Rossini's Barber of Seville, to the first day of rehearsals. Our conductor, Lidiya Yankovskaya is back for a second season with us, and the director and associate director, Joan Font and Xevi Dorca, arrived from Spain a few days ago. They were pretty excited to visit the beautiful Filene Center before rehearsals began!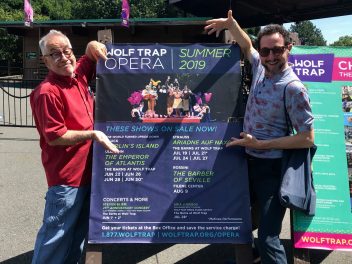 We are so fortunate to be able to take refuge from the summer heat in the beautiful melodies of Strauss and Rossini, and the artistry of our 2019 artists. (Stay cool during this heatwave, friends in the US!)