I'm writing this from my hotel room at The Palmer House. Both of the hotels we've stayed in in the midwest have been beautiful, historic properties. This is the Palmer House's 150 anniversary season, and the hotel is iconic, a real remnant of old-school, glamorous Chicago – it's a treat to see it being used these days much as it was when the hotel opened 150 years ago.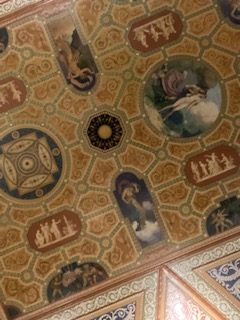 Our trip through the Midwest has been energizing in all the best ways. It feels very special to be able to witness so many artists reentering the field after the forced hiatus of the last two years. And sure, there have been some reentry jitters (heck, for ALL of us!), but by and large people have rocked their auditions and recovered well when things have gone sideways…and honestly, sometimes the recovery is impressive enough to get that callback!
We have listened in two really different spaces over the last 4 audition days. In Cincinnati we were in Mt. Auburn Presbyterian's sanctuary under beautiful windows that told The Parable of the Sower. We heard strong auditions from a number of candidates there, and were able to spend a little time with two of our favorite Cincinnati musicians, pianists Marie-France Lefebvre and Donna Loewy. And while I sadly don't have photographs to document the occasion, I was given a tour of the beautifully renovated Music Hall by Cincinnati Opera's President and CEO, Christopher Milligan. The room is so beautiful – I'll hope that CO and WTO's 2022 summer schedules are different enough to warrant a trip west to see a performance!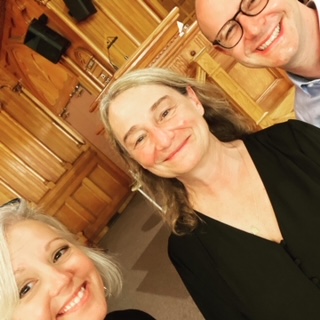 In Chicago we are back at PianoForte's recital hall on the South Loop. Speaking honestly, it took a little bit of listening to get our ears on in the space; it's smaller and the ceilings are lower than many of the other rooms in which we listen.  Figuring out the relationship between what we're hearing and how it might translate – both to previous auditions and our home at The Barns – is a special kind of calculus.
I'll venture to say that what we're witnessing in the room feels a little less like the conventional auditions that I remember from the Before Times, with the singing tied directly to an employment outcome (although that's exactly what these are, to be sure), and more as if the artists are treating the experience as a mini-performance. There are more risks being taken, more nuanced artistry on display, and more moments from which I can't pull myself away; I find that I'm having to remind myself to take notes and listen critically at times, because the performances are just so compelling! The difference between auditioning and performing might seem a subtle one, especially in our limited context; but in the room the difference feels huge, and is truly a privilege to witness. 
We'll have a full day of singing today, and will pack up for another early flight tomorrow: but the joy of this next flight is that it's taking us all homeward! We'll resume next week, screening virtual auditions on Tuesday, and hearing our last in-person auditions in our rehearsal space at the Center for Education at Wolf Trap on Wednesday and Thursday.