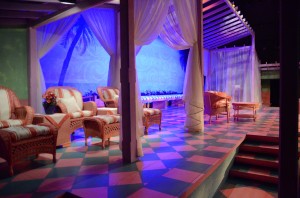 In opera, the whole should always be more than the sum of its many parts. Rossini's Journey to Reims has so many sparkling moving parts that if it were to be simply the sum of them, perhaps that would be more than enough. But sometimes you get luckier than you imagine.
We have high hopes for all of our productions and for the progress that our artists make while on our watch. But I have to say that this bout of Rossini we've witnessed here in June 2013 has exceeded our expectations. Personal bests from so many people, professional growth on multiple fronts, the establishment of relationships that will last entire careers, enthusiastic audiences. In a program devoted to artist development, very few things are perfection in themselves. The Gestalt, however, is definitely more than the sum of the parts; it is something that feels like  perfection, if only for a fleeting moment in time.
And so I'm spending this evening enjoying my last few hours at the Golden Lily Spa while cultivating the zen of non-attachment. For many musical riches lie on the other side of this journey, and we have miles to go before we sleep.