At Villa Corrizone, the Mayor's wife Sarelda prepares for "Inspector" Tancredi's visit and dresses down her daughter Beatrice (at left, literally trapped in Santa Schifezza) for not dressing up for him. Beatrice, silly thing, is more concerned about a certain dictator's rise in Italy.
Cosimo enters ahead of Tancredi, and Sarelda extracts information from him, concluding mistakenly that Tancredi is not in town to rout out corruption but rather, to recruit candidates for the new regime. She fantasizes about her new life in Rome, which includes a paean to footwear.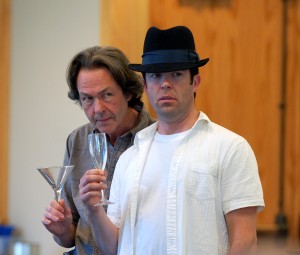 The Mayor and his Board of Directors enter with "inspector" Tancredi, flashing a new suit with a monetary lining.
Beatrice, none too demurely, confronts him about the new regime in Rome.
To politely shut her daughter up, Sarelda leads everyone in an inspirational anthem about the New Italy. (Below, the Mayor's Board of Directors join in the hymn.) Beatrice becomes suspicious about Tancredi and Cosimo and vows to uncover their true identities.
Tomorrow, Scene 4: Love for Sale