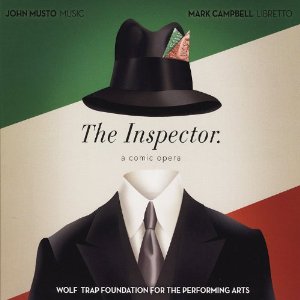 Our live recording of the 2011 premiere of The Inspector was available for purchase this past summer at Wolf Trap. And now…. it's available online at Amazon.com and iTunes!
The recording is a fabulous audio snapshot of the excitement and energy that filled The Barns during the premiere, captured here in NPR Classical's review:
"I was sitting at the opera last night, laughing out loud (repeatedly) at the world premiere of John Musto's comedy The Inspector, when a question came to mind: What happened to all the funny operas?…Musto's score — sparkling, with whiffs of Bernstein and Rota — kept tickling my ear, and librettist Mark Campbell's witty wordplay kept cracking me up…"
Check it out.