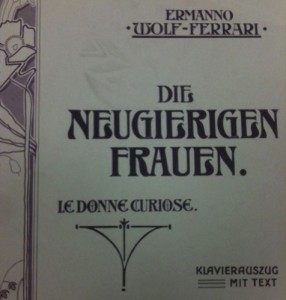 It's probably not a surprise that the printed music for a rare opera is just a touch hard to read… Actually, the string books are in pretty good shape, but the wind parts… well, let's just say that conductor Gary Thor Wedow is keeping a positive outlook by reminding himself that it's possible that these are the exact same parts that Toscanini conducted from in 1912.
Mo. Wedow is an incurable optimist, a prince among men, and a phenomenal musician. We are ever so fortunate to have him back at the Trap. In recent seasons, Gary worked his magic on unfinished Mozart (Zaide) and sprawling Monteverdi (Ulysses), and we look forward to his new relationship with Wolf-Ferrari!
(Rehearsals begin on Monday, and by the end of the week, we hope to have a few sound clips to share with you all, so you can hear it for yourself.)
Wolf-Ferrari's The Curious Women at The Barns on June 17, 19 & 25. First professional production in the U.S. since 1912 (at the Met).