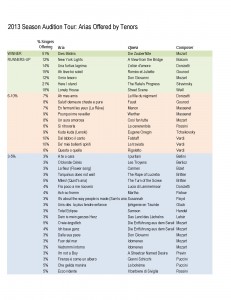 The tenor aria frequency list is ready for your enjoyment, available by clicking here or on the image at left.
Dies Bildnis is not an easy sing, but Tamino's aria was offered by just over half of this year's tenors. (Keep in mind that we require either a Mozart, Handel or Rossini aria, so that skews things a bit.) Ottavio's "Il mio tesoro" has inched up the list from last year, though, but not close enough to usurp his German cousin.
In other news, "Lonely House" has joined "New York Lights" and "Here I Stand" as a top English aria option, and Roméo has edged Faust out of the top tier.
Baritones and basses, your lists are being churned and will be available soon!