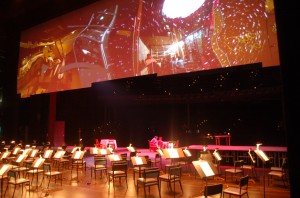 Thursday 7/21 – 12:30am
Overnight tech call #1.
Temp: 83
Oh, yeah.. there's this thing about doing opera outdoors… the only time you can tech is when it's dark…the middle of the night.
Agenda: Change over onstage electrics (pop show just loaded out), bring projectors and screen to trim, set risers, focus front of house, set video tech table, program video projections. And we're off.
I'll report on hourly starting tomorrow morning. Symphony, sweat, and stunning Sondheim.
Photo above from overnight tech for Boheme 2009