The puzzle is complete! We are now on the web (links below). Tickets will be available to Wolf Trap members on February 25 , and to the general public on March 16. (I never say much about this on the blog, but if you enjoy our performances and believe in our amazing young artists, membership is an great way to get tickets early and support the cause. Truly.)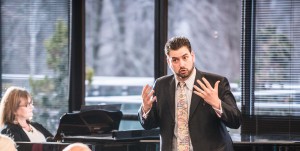 The 2013 season performance information was shared with donors and patrons last Saturday, in a lovely event at which our own Three Baritones sang. (Grazie mille, Nicholas (at left), Norman & Steven!)
I dearly wish I could say more (for there is so very much more to say…) but I must direct all of my waking hours toward preparing for next Friday's concert. (And on that topic: Why do I regularly forget how I love to play the piano? Geez, I miss it.)
OPERAS
Rossini's Journey to Reims (June 21, 23, 29)
Prominent political and society figures get stuck in a French spa. Endless coloratura, colorful patter, love quadrangles (quintangles?) and general good times with 17 singers.
Verdi's La traviata (July 19)
We're back at the Big House (a.k.a. the Filene Center amphitheatre) with the NSO!
Verdi's Falstaff  (August 9, 11, 14, 17)
Plenty of Giuseppe to go around, in this, his 200th birthday year.
CONCERTS
Steve Blier's back (in an exciting new in-the-round concert configuration!) on July 6 & 7 with Wonders To Wander To.
I accompany our artists in Aria Jukebox on July 14, where the audience picks the program. (They get to hear 20 favorite arias. I get to rehearse 80; four options with each singer. What was that I just said about not getting to play the piano enough?…)
We go to The Phillips Collection on July 25 for this year's iteration of Vocal Colors – songs chosen to pair with artwork in the collection.
BUT WAIT… THERE'S MORE…
(Registration info for all of these projects to be available shortly – if you want to be notified personally, let us know at wtoc@wolftrap.org)
Instant Opera! will be back at the Children's Theatre-in-the-Woods on July 11 & 12! Improvised opera by Mad Libs will capture the imagination of hundreds of children… Who will it be this year?  Return of SpongeBob? The Wiggles? Tickets available starting May 4.
New project for pre-teens and teens: Opera Learner's Permit: The Journey to Reims – a night at the opera designed specially for middle- and high-school students! Registration will start in April.
OUR PEEPS
The real story is the people. 36 singers (20 Filene Young Artists & 16 Studio Artists). Can.Not.Wait.