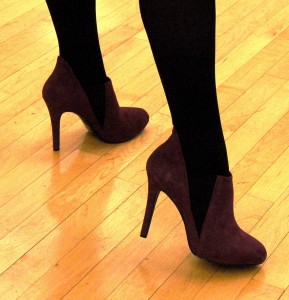 It's not much of a secret that my colleague Rahree is all about the shoes. Of course, we are in search of fabulous singing on this audition tour. But not inconsistent with that quest is Rahree's lookout for classy and distinctive ladies' footwear. It's a hobby and a passion. She was sporting a pretty amazing pair herself today, and I figured I'd capture them so as to give you ladies some inspiration.
(Me? I'm wearing black clogs. A rank amateur at this shoe game.)
The costume designer for our upcoming Musto opera premiere* has give Rahree a new nickname: Bernadetta Fazzobaldi. Don't worry if this doesn't make sense; it will soon enough.
---
I just got back from the New York premiere of Bernstein's A Quiet Place. An amazing, exhausting, wonderful evening at the theatre with a cast of brilliant singing actors, including Wolf Trappers from 1972 to 2009. (My favorite image was of three decades of WTOC mezzos sharing stage left during Trouble in Tahiti.)  I only have time for this short post, for the turnaround time till tomorrow morning's first aria is mercilessly short.
---
*"What premiere?" you say? The Inspector, a new comic opera coming at you on April 27, 2011.