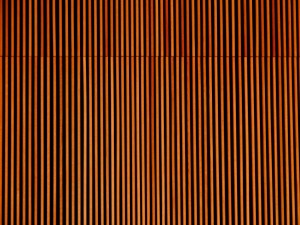 The corners of the room have never been more attractive, it seems. So much so that we were contemplating moving our table from the center so that we could see people's faces. But after wondering for a while why so few audition arias were being sung in our direction, we learned that some singers were having a difficult time with the trippy  wall behind us.
The 3-D walls in the Cary Rehearsal Studio are a welcome acoustical touch, and they also break up the long visual expanse. But if you stare at them too long and in the wrong way, it seems that they can be pretty dizzy-making.
Aria Hit Parade
There were two clear front runners this week in New York:  7 renditions of Manon's entrance aria ("Je suis encor") and 5 offerings of Lenski's aria ("Kuda, kuda") from Eugene Onegin.  A pretty surprising tally for only being 6 days into the tour.