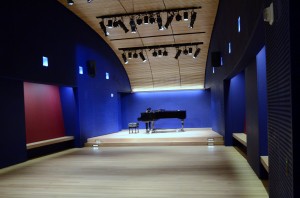 I am constantly amazed by how different it is to do auditions in New York now that the National Opera Center is here. A room with true acoustics, a place for singers to relax (well, as close as one can get to relaxing before a job interview), a warm-up room, a few vending machines…. It's positively civilized, and it's a complete departure from most of the places we've been over the last several years.
Today was a terrific start to the 2015 Audition Tour. A fair amount of nerves in the room, but that's no surprise. Most folks shook them off quickly and proceeded to make music. We heard our first 48 arias, with only one repeat.
The good news? There's a lot of talent out here. That means that some really good singers don't end up on our short list, and that's tough. But there are lots of summer program opportunities, so spread the net as wide as appropriate, and persevere.
Armed with the knowledge of the kinds of voice types we're about to hear as well as the profile of the artists who are eligible to return for a second summer at WTO, we are working on the first list of possible operas for our 2015 season. It's coming your way within a day or two!