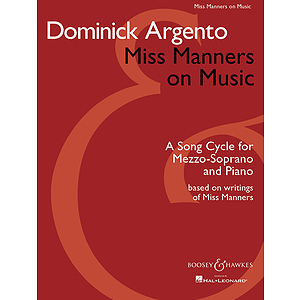 The second half of Kate Lindsey's April 8 concert includes five songs from Miss Manners on Music, a cycle by Dominick Argento. The texts for these songs are by Miss Manners, excerpted from her etiquette columns with their signature combination of truth and humor. In addition to a Prologue (from which the post title is gratefully taken… see below) and an Epilogue, we'll be performing Manners at a Concert, Manners for Contemporary Music and Manners at the Opera.
Miss Manners is barely removed from the classical music industry, as her son Nicholas Ivor Martin is Director of Operations at Lyric Opera of Chicago. He and I both cut our teeth at Wolf Trap in the 80's, and the birth of this set of songs is a typical Wolf Trap story.
Wolf Trap Opera produced Argento's A Postcard from Morocco at The Barns in 1986, when Nick and I were both on staff. His parents had a chance to meet the composer briefly at that time, and a few years later, Miss Manners' husband set off on a quest to get Argento to write a song cycle as a present for his wife (on the occasion of a big birthday and the 20th anniversary of her column). The composer put off the request for a while (go here for his own description) but finally acquiesced. The 1998 premiere was at the Cosmos Club in Washington, D.C. and featured mezzo-soprano (and Wolf Trap Opera alumna) Phyllis Pancella.,
And here, Gentle Readers, is an excerpt.
I. Prologue from Miss Manners on Music
The adage that Silence is Golden has never been more true, in Miss Manners' opinion. Its value is rising astonishingly every day, and it is getting correspondingly harder for most people to have any.
By silence, Miss Manners means something you can hear a bird tweet in.
Individuals and industries have combined to produce a constant stream of nasty noise masquerading everywhere under the inappropriate name of music. Restaurants, hotel lobbies and shops are wired for sound. Hand carried radios take care of the street and buses. In private houses the fancy sound of mild classical music used as a "background."
The fact is that all this noise is rude. It is rude to the captured audience of half-listeners, and what is more, it is rude to the music.
Music worth listening to is worth listening to.
(Amen, sister.)