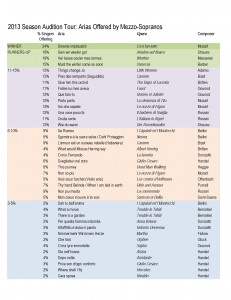 Today,we are in Philadelphia, hearing as many auditions as we can from the singers who managed to get here in the Calm Before Frankenstorm. Wish us luck as we swim back to DC tonight!
And for your enjoyment, a continuation of audition tour data – this year's list of mezzo arias. Clicking through should show you a large PDF.
These statistics are churned by downloading all of the arias that mezzos include in their 4-aria list, then sorting by the number of times each aria is mentioned. This year I summarized the data by the % of singers who listed any given aria. Within each group, I've sorted by composer so that it's a bit easier than usual to find things.
Trends? Dorabella has smacked Charlotte out of first place. (Probably because we asked for Mozart…) And there are a few new entrants into the top 10: "Wie du warst," "Voi che sapete," "Parto, parto," the Seguedilla and "Things Change, Jo" :)