Part Two of Anne Midgette's survey of new American opera ran in the Post yesterday, and we got some nice ink for our recent and future commissioning activity.  (Do click through – it's a good read.)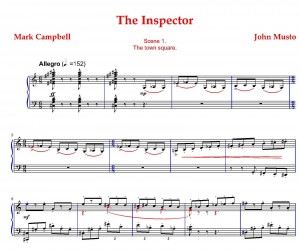 Part One ran last Sunday, on the day of our WTOC Artist Welcome Reception, and quite a few donors made a point of telling us how disappointed they were about the fact that we received no mention in an article about new opera.  We advised patience, and indeed, in Part Two, there is prominent mention of both Volpone and The Inspector.
My only displeasure came from what must have been a serious lapse in use of the English language during my interview.   I resorted to the one thing about which I spent years haranguing my own children: the "L" word.  Says I about working in a thrifty organization that isn't too dependent on big money and lavish gifts from outside funding sources, "…when you see things go south, you're like, 'I'm glad I wasn't relying on it."
"You're like…"  Really, Kim?  Blrgh.  You get the gist, though.
Hurrah for new music theatre that retains the best of the bountiful opera tradition that precedes it, that entertains and intrigues the audience, and that doesn't require so much money that it collapses in on itself.